A second life for our products
Sustainable and 100% recyclables products
Because we care about our environment and are attached to our land, we naturally anchor respect for the environment and sustainable development in our values and commitments.
We aspire to a sustainable future by fully assuming our environmental and social responsibility in all aspects of our daily work. For 18 years now, we have been using recycled plastic material in our various product lines, derived from industrial or post-consumer plastic waste.
"With plastic, nothing is lost, everything is transformed" Marc MADEC, Director of Sustainable Development for the Plastics and Composites Federation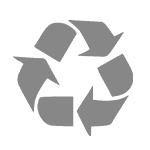 4,000 TONS PER YEAR OF RECYCLED MATERIAL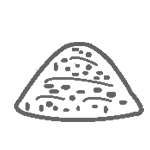 700 TONS PER YEAR OF MATERIAL RECYCLED IN-HOUSE.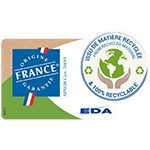 2022 objective: +30% recycled material in our consumption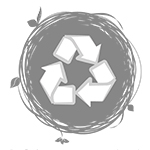 Sustainable and 100% recyclables products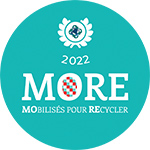 LABEL MORE (MOBILIZED TO RECYCLE) SINCE 2020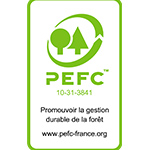 PEFC label for the Jura Montania range since 2022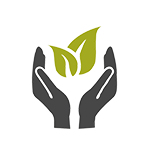 Environmentally responsible purchasing and eco-design
We strive to work with local actors for our purchases.
EDA is a member of the Ronax Economic Interest Grouping (GIE), which aims to contribute to the competitiveness of companies in the plastics industry by setting up joint facilities, optimizing the purchase of goods and services and reducing the company's operating costs.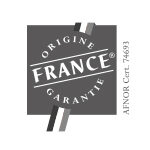 Origine France Garantie
The Origine France Garantie label aims to promote national know-how and to better inform consumers about the French origin of products. To obtain the label, companies must meet two cumulative criteria To obtain the label, companies must meet two cumulative criteria
between 50 and 100% of the unit cost price must be acquired in France
The product must have its essential characteristics in France.
EDA is the first company in its field to have obtained the Origine France Garantie label. More than 1,000 products in our collections are labeled.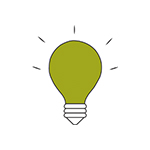 Electricity and water consumption
Every year we strive to reduce our environmental footprint by making various investments: hydroelectric power plant, closed water circuit, LED lighting, installation of solar panels, hybrid vehicles, etc.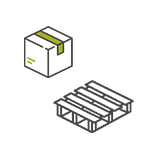 In-house waste reduction
For more than 15 years, we have been managing and recycling our industrial waste with professionals in the sector: pallets, cardboard, films, cups, paper, etc.